New home for dogs to open soon in St. Charles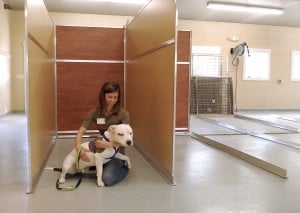 Workers last Wednesday were putting the finishing touches on the 4,000-square-foot new home for dogs at Five Acres Animal Shelter, 1099 Pralle Lane in St. Charles.
As music from AC/DC blared through the new sound system in the $600,000 addition to the shelter, Executive Director Kim Brown stood inside the front entrance pointing out what still needed to be done before the dogs would be moved in, which was expected to occur on Monday.
Brown said the shelter had not announced a date when the public could view the dogs in their new kennels, but a VIP open house is planned for May 21.
Counter tops still needed to be installed. A cat condo near the front door wasn't in place yet. The gift shop in the shelter's current building hasn't been moved yet.
The new building's 32 indoor kennels were being erected while Brown talked about the effort it's taken to build more space for the no-kill shelter's dogs.
"This transition of construction has been challenging," Brown said. "We're working around the contractors. We've maintained our capacity the whole time, and the dogs and staff and volunteers have been patient. Customers have been really understanding because they have to walk past construction to get to the dogs. But they see the new building and are excited about that, and hopefully they'll come back and get another dog."
Five Acres' staff are always trying to find more ways to lessen the stress on the dozens of dogs and cats in their care. The lobby in the current building is filled with cages and dogs. A large dog occupies Brown's own office, and space for new arrivals is at a minimum.
In the new building, dogs will be introduced in the meet and greet rooms. Each new indoor kennel is separated by a solid wall, so the dogs won't be able to see each other, which will reduce their barking and anxiety. Before the new kennels open, customers have to find an open space in the laundry room or crawl into the cage with dogs they might want to adopt.
"When our customers come in, that dog that comes up to the cage or the cat that comes over and sits on their lap, a lot of times is who they want to take home," Brown said. "They say, 'They picked me.'"
The dogs and cats that show up at Five Acres don't get to pick where they go. They also don't decide how they arrive.
During a hail storm earlier year, Five Acres staff arrived that morning to find a gray German shepherd mix tied to the shelter's gate. Susie was pelted by hail until staff took her in. Her owner didn't leave a note.
Aside from a bout of kennel cough, 7-year-old Susie greeted a visitor Wednesday with a bark and wag of the tail, which wagged faster the more her head was rubbed.
Julie Mahler was at Five Acres Wednesday working as an intern from Lewis and Clark Career Center in St. Charles. Mahler, a junior, has worked at Five Acres 2 1/2 hours each day Monday through Thursday for three weeks.
The dogs were still in their outdoor pens as Mahler went from cage to cage to offer attention to each dog. She admitted she wanted to work at Five Acres because she's an animal lover. Mahler cleans cages, takes dogs for walks, feeds them and gives them attention.
"I have plenty of favorites," Mahler said as she petted one of the shelter's pit bulls. "I have too many. I can't wait until (the new building) gets done. It will look great and be good for the dogs."
More space also means the need for more volunteers. Five Acres relies a great deal on its 350 volunteers. Since the capital campaign to raise money for the new dog shelter started, volunteers have helped with painting and landscaping in addition to their normal duties caring for the animals.
"They do everything our staff does, and a dozen things staff doesn't do," said Brittany Broombaugh, director of volunteers at Five Acres. "They answer phones, walk dogs, socialize with dogs and cats, help gather donations, take dogs to the vet. We couldn't do what we do here without our volunteers."
On April 23, Five Acres won the $5,000 third-place prize in the Monsanto Grow St. Louis program, a contest to benefit local nonprofit agencies. House Rabbit Society of Missouri finished first and won $15,000. Wentzville Special Sports, an athletic program offered through the Wentzville School District for students and alumni with special needs, won $10,000 for placing second.
Broombaugh said Five Acres' winnings and a private donation match of $5,000 would be used for veterinarian fees. That $10,000 amounts to 20 percent of the shelter's expected vet fees for 2012, she said.
Social media websites like Facebook were instrumental in helping Five Acres gain enough votes from the public to finish in the top three.
"I felt with our community effort and numbers we had in the volunteer program we could get support behind us," Broombaugh said. "The top four spots were bouncing around quite a bit and we settled into third the last few days, but it was close enough that we were right on the edge of falling out of the top three."
Once the new building opens, Five Acres will be closed on Mondays. The shelter will be open 2-6 p.m. Tuesday through Friday and noon-6 p.m. Saturday and Sunday.
"It saves us a little on the bottom line and gives us time to do some administrative work," Brown said about being closed on Mondays. "We'll be open longer on the weekends to make up for being closed that day."
Read more:
http://www.stltoday.com/suburban-journals/stcharles/news/new-home-for-dogs-to-open-soon-in-st-charles/article_ab2cdccd-64e9-581b-a611-315030893f0a.html#ixzz1tuHEKyUM