Where did Missouri's 'puppy mill' debate go?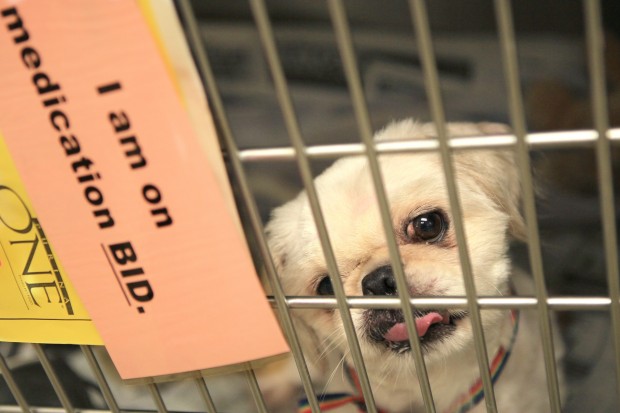 Remember the puppy mill debate?
Only last year, it raged. Everyone seemed angry. Voters had approved a tough set of dog-breeding regulations, called Prop B, to take effect in 2011. But breeders cried foul. They said Prop B went too far, that it would kill the state's dog-breeding industry — no small thing, since an estimated 40 percent of all puppies sold in the U.S. came from Missouri.
So state lawmakers threatened to gut the law. This time, activists and voters got mad. They pointed to the state's reputation as the nation's "puppy mill capital."
The governor stepped in and helped negotiate a compromise. The new rules were watered down yet still gave Missouri some of the nation's toughest dog-breeding laws. Neither side seemed fond of the deal. And more fighting was promised in 2012.
But now, somehow, it feels as if it's all over, even the shouting.
"Things have quieted down from the public's standpoint," said Kathy Warnick, president of St. Louis-based Humane Society of Missouri.
"The issue hasn't been as hot this year," agreed Karen Strange, president of Missouri Federation of Pet Owners, which fought against Prop B.
Today, all sides claim some measure of victory while remaining wary of one another.
A major sign of the impact of the new rules can be seen in the number of state-licensed commercial dog breeders. It has plummeted, falling 21 percent last year and an additional 10 percent already this year, according to statistics from the state Animal Care Facilities Act program.
Just over 1,000 licensed dog breeders remain in Missouri, down from 1,802 in 2008.
"We're seeing a lot of those bad dog breeders going out of business," said Bob Baker, director of the Missouri Alliance for Animal Legislation.
But Strange viewed the dramatic drop differently. Yes, some of it was bad breeders getting out. But some good breeders also left because they could not afford to retool their kennels to meet expanded space requirements that will be phased in over the coming years. And some breeders were forced out by the weak economy, Strange said.
Anna Bresler of Cabool, Mo., was among the 182 commercial breeders who relinquished a state license last year. She ran Itty Bitty Pets, a 10-dog kennel specializing in Pomeranians.
She knows breeders who stopped doing business because of the new rules. And she doesn't like the regulations. But, illustrating the variety of reasons behind people dropping licenses, she quit because she felt she was getting too old to keep raising dogs. She and her husband couldn't travel as much as they'd like and still run a kennel.
Not only have the rules gotten tougher, enforcement has been ramped up.
Much of this renewed focus came before the Prop B debate, when Gov. Jay Nixon appointed Jon Hagler to take over the state Department of Agriculture. Hagler, who wears a cowboy hat and holds a Ph.D. in political science, cleaned house in the state's animal inspection unit.
Since his arrival, the number of annual inspections of breeders, kennels and shelters has jumped nearly 150 percent. Violations were up 47 percent last year from 2009.
Given the divisive way events unfolded last year, Hagler said he was "pleasantly surprised" at how the changes have gone over. "There's been surprisingly very little push-back."
But it hasn't all been calm and kindness.
Tempers flared late last year over how to define a vet visit. The dog-breeding industry argued that a visual exam by a veterinarian was enough. Animal activists objected. The final law was written to require that each dog has a hands-on checkup by a vet.
And heading into this year, the Humane Society of the United States was still threatening to push a ballot initiative requiring a 75 percent threshold instead of a simple majority for lawmakers to tinker with voter referendums. The effort was branded "Your Vote Counts."
The society was still smarting from lawmakers' tampering with Prop B. It and the American Society for the Prevention of Cruelty had largely bankrolled the campaign to pass Prop B. And the national groups opposed the governor's compromise bill.
This led to a nasty split between the Human Society of the United States and Missouri-based groups such as the Humane Society of Missouri and the Missouri Alliance for Animal Legislation, which supported the compromise.
But quietly, last month, the Your Vote Counts campaign was disbanded. The energy of outrage was missing.
Wayne Pacelle, the national society president, said his group agreed to drop its quest in exchange for other legislative fixes. One big issue — still working its way through the statehouse — is the so-called 'shelter tax." It is an annual fee that animal shelters and rescues have to pay to fund state inspections, just as commercial breeders do. This tax was added under the compromise bill. Pacelle said it did not make sense to make rescues or shelters pay when they are "relieving a burden caused by breeders."
Warnick, of the Humane Society of Missouri, called the $5,500 fee her group now pays each year "a hardship."
The new state law also gives the state attorney general the power to file criminal charges for canine cruelty. State animal inspectors have referred 21 cases for prosecution. The attorney general also can seek to shut down kennels. Earlier this month, a judge issued a temporary restraining order to stop an unlicensed breeder in Willow Springs, Mo., from breeding dogs.
The next front in the dog-breeding wars might be online.
Hagler said the Agriculture Department is working on how to ensure breeders who sell puppies online are registered and following the law. Federal animal welfare laws do not regulate online puppy breeders, only breeders who sell strictly in the wholesale market, such as to pet stores. But that could be changing. The Humane Society of the United States has pushed to start federal regulation of breeders who sell online.
The U.S. Department of Agriculture said it plans to publish proposed rules for regulating online dog breeders later this year, when the puppy mill debate just might return.
Read more:
http://www.stltoday.com/news/local/metro/where-did-missouri-s-puppy-mill-debate-go/article_4be18df6-955c-58fe-8360-846c5c11ca35.html#ixzz1yvXxpnjG